Come to Charlottetown, October 14–16, 2020 as we reflect on our progress and prepare to ride the wave into the next 100 years of planning in Atlantic Canada.
We are looking forward to seeing you at the Rodd Hotel Charlottetown from October 14–16. Hotel bookings information will be coming shortly.
---
Call For Proposals
Proposals are now being accepted at https://atlanticplanners.org/events/api-conference-2020/2020-conference-submission/
Full details are also available for download.
---
THE CONFERENCE THEME—A Place for Everyone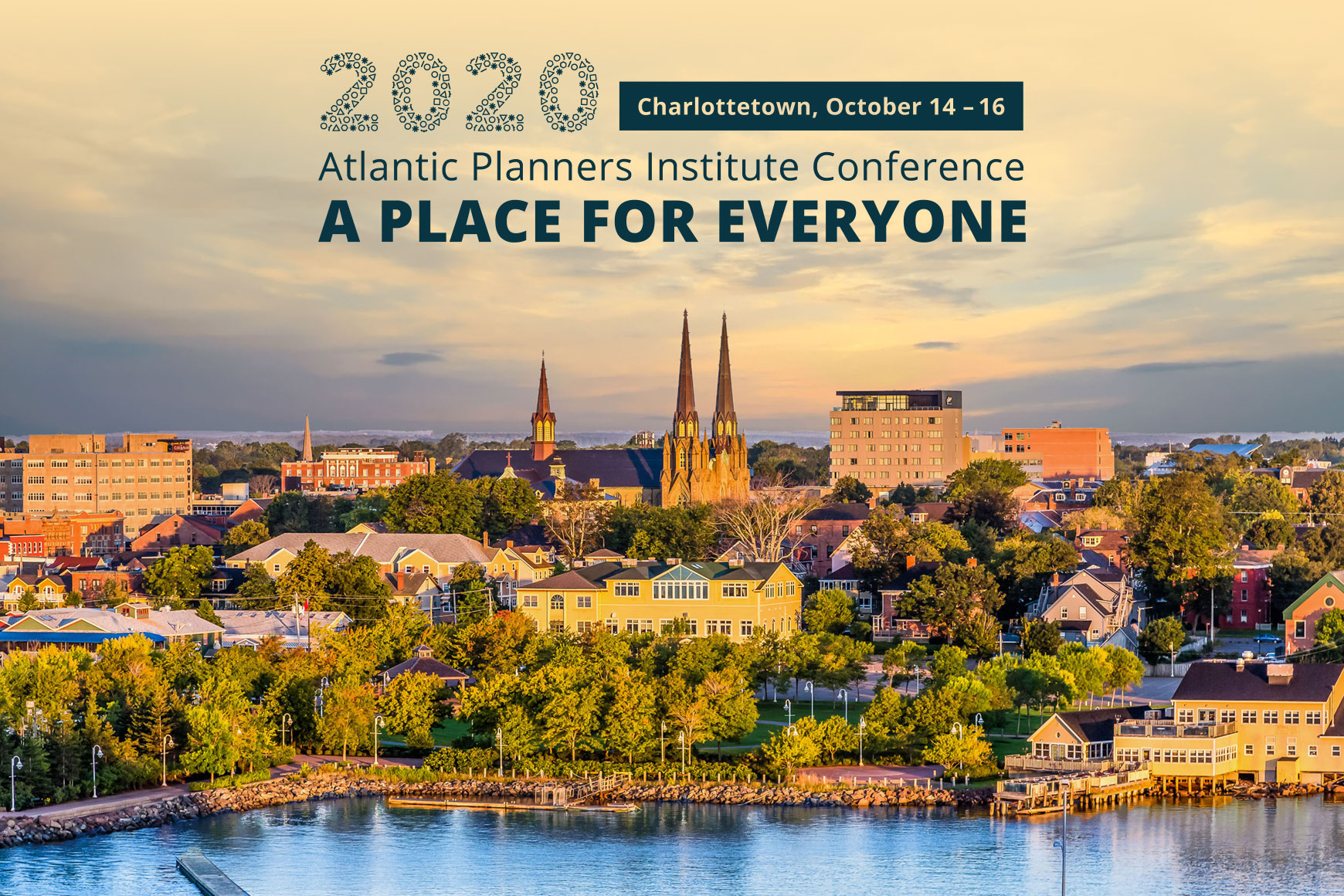 Whether in housing, recreation, or simple pride of place, the forward-thinking work of planners is critical in creating areas where everyone can feel welcome. But beyond the physical outcomes, the planning process also has a need for everyone to be heard, to know that they have a place in shaping the future of their community.
CONFERENCE SUBTHEMES
Housing for all: Housing is all-encompassing and affects us in many ways. Making sure there is housing for everyone is critical to ensure the orderly growth, stability, and health of any community. Who are the stakeholders in your community that are responding to the need to provide housing across the entire spectrum. How can planners facilitate these efforts to ensure that housing is available, affordable, and accessible to the changing demographic needs of the public.
Climate Change Adaptation: Climate change is multi-faceted within our built and natural realm. If planners wish to build communities for tomorrow, they must ensure that future generations have the same opportunity for growth and prosperity as previous generations. Can planners leverage the management of public spaces and natural infrastructure to mitigate the long term impacts of climate change? How can natural habitat provide both protection for residents and opportunities for public space?
Newcomers and multi-culturalism: Everyone is a part of the community regardless of who they are or where they come from. There are pressures placed on newcomers and immigrants that differ from the needs of the local population. Measures need to be put in place to ensure that those new to a community can be accommodated through effective social inclusion policies.How can planners help ease tensions often created from immigration? How can principles of inclusivity and diversity be incorporated?
Engagement: Being heard in today's environment is difficult when planning formats and tools for seeking public input reflect a different era and do not take into consideration the changing dynamic of family units, diversity in ethnic groups, work hours, and various communication platforms that younger people prefer to use for engagement. Smaller local communities are still trying to find their voice in a culture dominated by larger groups who have historically represented the views of the community. How can we encourage non-traditional voices to be heard with today's rapidly changing modes of engagement?
Now more than ever, practising planners are hungry for the knowledge, skills and expertise that will be needed to help communities interpret and respond to the social, environmental and technological change that is occurring.
WHO'S COMING?
API Charlottetown 2020 will attract professional planners, planning students, other professionals with an interest in planning, municipal staff and elected officials. The conference will provide an important opportunity for professionals from diverse fields to come together to network and explore ways to further integrate the relationship between planning, our communities, and the new environment.
Become a sponsor or exhibitor
Take advantage of one of the limited opportunities available to become a sponsor at this signature event. Sponsorship information coming soon
Cancellation Policy
Registration is transferable for a $30.00 + HST fee.
A full refund less a $75 + HST administration fee is available through October 2nd.
No refund will be issued after October 2nd, but registration may be transferred for a $30.00 + HST fee.