Call for RFPs - Financial Services
COMPANY NAME
Atlantic Planners Institute
APPLICATION DEADLINE
February 10, 2021
CONTACT INFORMATION
(902) 704-2401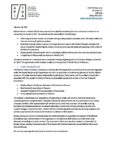 Atlantic Planners Institute (API) invites proposals from qualified accounting firms for professional services for an
annual financial review for API. The reviewer will be responsible for the following:
Performing an annual review in accordance with generally accepted standards, which will include advice on
internal control and related procedures.
Attending meetings (either in-person or through electronic means) with Atlantic Planners Institute staff
and as required for establishing the review process and planning, executing and reporting on the review of
the financial statements.
Discussing with and advising API staff on accounting, auditing and tax issues that may arise during the year.
Completing and filing annual tax returns on behalf of API.
The service period is for a three-year term, renewable annually, beginning with the fiscal year ending on December
31, 2022. The appointment of the reviewer is subject to the approval of the API Board of Directors.