Community & Strategic Planning Advisor
COMPANY NAME
The Confederacy of Mainland Mi'kmaq
APPLICATION DEADLINE
July 31, 2022
CONTACT INFORMATION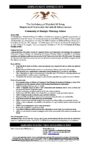 Download the full position details and application requirements.
About CMM
The Confederacy of Mainland Mi'kmaq (The CMM) is a Tribal Council representing eight Mi'kmaq communities of mainland Nova Scotia. Our mission is to proactively promote and assist Mi'kmaq communities' initiatives towards self-determination and enhancement of community. The CMM is located in the Millbrook Mi'kmaw Community in Nova Scotia and has over 100 Employees. The CMM's Department of Community Services & Infrastructure is currently looking for an energetic, mature, and independent candidate to fill the role of Community & Strategic Planning Advisor.
Why work with us?
The Confederacy of Mainland Mi'kmaq (The CMM) is well known throughout Canada as a professional organization that is committed to providing a pleasant and healthy working environment for all its employees. As an organization, we understand that a great work/life balance is essential to success. As a full-time employee you can expect:
An atmosphere that is both professional and family oriented.
Enrollment in the organization's benefits packages on your first day of employment with no waiting period, which includes Health & Dental, and Employee & Family Assistance Program (EFAP).
Employee RRSP contributions matched by The CMM up to 5.5% of earnings.
Generous amounts of paid time off (Paid Statutory Holidays plus St. Anne's Day and Aboriginal Day, Summer Shutdown (2 weeks), Christmas Shutdown (roughly 2 weeks), plus 1 week of discretionary vacation time (up to 2 weeks with 10 years of service).
Social Committee, Staff Days, Staff Knowledge Days, etc.
If you would like to join The CMM Family, please see below on how to apply for this position.
Position Overview:
Under the direction of the Director of Community Services and Infrastructure, and reporting to the Community Infrastructure Program Manager, the Community and Strategic Planning Advisor is responsible for developing, monitoring, and updating multi-year community strategic plans for the Technical Services Unit of the Directorate.
Responsibilities:
Engagement with CMM member communities on community & Strategic Planning needs.
Develop and deliver a comprehensive community planning advisory service to member communities.
Other related duties to improve and support community planning for First Nations – advocacy, participation and representation in various venues, networking, etc.
Continually seek education and training to remain culturally responsible and sensitive to needs of client(s).
Position Requirements:
Post-secondary degree OR diploma in Community/Urban Planning, Environmental Planning, or related field.
Experience in strategic planning and project development/implementation /management.
Ability to develop policies and plans as needed.
Ability to anticipate change in order to help communities meet challenges such as social, physical, and environmental impacts of population growth.
Excellent communication and presentation skills, both written and spoken.
Proficiency in MS Office (Word, Excel, PowerPoint, etc.).
Strong work ethic and ability to work in an environment requiring discretion and confidentiality.
Ability to work independently and in a team environment.
Successfully completed Criminal record check
Valid driver's license and reliable transportation with ability to travel within Nova Scotia as required.
Ability to work outside of normal working hours due to the requirements of the member communities and clients.
Salary/Employment Term:
Salary Range: $50,000 to $65,000 per year depending on education and experience. This is a Permanent Position (pending successful one-year probationary contract).