Gros Morne Tourism Regional Implementation Project
COMPANY NAME
Gros Morne Cooperating Association
APPLICATION DEADLINE
August 31, 2020
CONTACT INFORMATION
Rhoda Reardon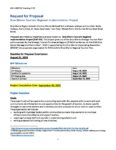 Gros Morne Region includes the Gros Morne National Park and seven enclave communities: Rocky Harbour, Norris Point, St. Pauls, Cow Head, Trout River, Woody Point, Glenburnie-Birchy Head-Shoal Brook.
Proposals are invited to implement a project known as:  Gros Morne Tourism: Regional Implementation Project (GMTRIP). This project grew out of the Gros Morne Strategic Tourism Plan and is overseen by the Strategic Tourism for Areas & Regions (STAR) Gros Morne, via the STAR Gros Morne Management Committee . STAR is supported by the Gros Morne Cooperating Association (GMCA) the proponent organization for STAR and the Gros Morne Regional Tourism Plan.
For full details see the linked RFP.