P923 – Urban Planner – Planning and Development
COMPANY NAME
City of Moncton
APPLICATION DEADLINE
April 12, 2021
CONTACT INFORMATION
Christine Lirette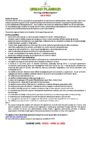 Position Summary
The Urban Planner will be responsible for preparing land use planning and related projects, research studies, reports and analysis required to support the Planning and Development's Development Control, Long Range Policy Planning and current Development Planning functions.  The incumbent also serves as a Development Officer and will be responsible for responding to public inquiries on zoning related matters, processing complex development permit approvals, as well as issue Zoning Certificates (zoning confirmations and compliance letters).
The position reports directly to the Director, Planning and Development.
Key Responsibilities:
Assists with long-range policy planning, public engagement and plan-making processes.
Conducts research studies, prepare policy papers, and assist senior planning staff with preparing planning documents such as municipal plans, zoning by-laws, neighbourhood and secondary municipal plans using knowledge of planning theory, practice, and legislation.
Process rezoning applications (e.g. Municipal Plan and Zoning By-law amendments) and Planning Advisory Committee applications (e.g. variance, conditional use, terms, and condition applications).
Responds to public inquiries (i.e. interpret planning legislation and zoning requirements).
Monitors development approval conditions for planning applications.
Attends Planning Advisory Committee and Council meetings as required.
Assists with resolving zoning by-law compliance & enforcement matters.
Our ideal candidate will have the following:
Have a graduate or undergraduate degree in planning which is recognized by the Canadian Institute of Planners.
The eligibility to become a full member of the Canadian Institute of Planners.
A minimum of (3) three years of relevant experience, preferably working within a municipal government environment administrating Municipal Development Plans and Zoning By-laws, including by-law amendments; processing development permits, and Planning Advisory Committee applications; and zoning compliance and confirmation letters.
The ability to function fluently in both official languages (English and French) is a requirement. As per provincial language proficiency standards, functional is determined to be at the Intermediate+ (2+) level or higher.
The ability to work with tight timelines.
The ability to initiate ideas and make sound judgments.
An extensive knowledge of Microsoft Office (Outlook, Excel, Word, Power Point)
The ability to work independently and with minimal assistance.
The ability to communicate effectively both verbally and in writing, with good presentation skills.
The ability to meet, consult and deal in confidence with municipal officials and business/industry.
The ability to identify, analyze and resolve complex planning and development concerns and issues.
An understanding of the Planning and Development Department's policies, priorities, processes and procedures is demonstrated.
A considerable knowledge of the practices, principles, techniques, and methods applicable to urban planning.
An awareness and understanding of current planning and development issues in communities.
A strong organizational and time management skills and be capable of working without direct supervision.
The ability to pay close attention to detail and to verify accurate information.
Other:
The person holding this position will represent the department and will have frequent contact with internal and external customers. Must be courteous and diplomatic in exchanging information through calls from the general public, members of Council, civic administration, media, heads of agencies, commissions, and local or national organizations. Must have a high degree of discretion as confidential matters are dealt with regularly.
The Applicant must submit their application through the online system that can be found at www.moncton.ca/employment
For more information, please contact Human Resources at (506) 877-7707.
CLOSING DATE:  NOON – APRIL 12, 2021