Temporary Development and Research Coordinator -up to 18 months (formerly named Planning Technician)
COMPANY NAME
City of Saint John
APPLICATION DEADLINE
September 29, 2021
CONTACT INFORMATION
(506) 639-5276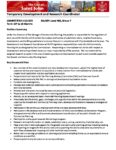 Position Summary  
Under the direction of the Manager of Community Planning, the position is responsible for the regulation of land use within the City which entails the analysis and review of subdivision plans, neighborhood plans, development, and building applications to ensure they are in compliance with City standards and by-laws.  The Development and Research Coordinator will fulfill legislative responsibilities under the NB Community Planning Act as delegated by the Commissioner.  Responding to internal/external clients with respect to development and zoning related issues is a major responsibility of the position.  The incumbent will be assigned research projects in the area of planning policy and development as well as and provide support to the Growth and Community Planning team.
Key Responsibilities
As a member of the cross-functional one-stop development shop team, uphold the highest level of customer service and respond to inquiries in a timely manner from internal/external clients with respect to all application and pre-application processes.
Prepares technical reports for the Planning Advisory Committee (PAC) and Common Council.
Makes presentations to the PAC on zoning and development application issues.
Conducts site investigations.
Reviews and endorses subdivision plans, development and building applications to ensure compliance with City standards.
Reviews and interprets municipal by-laws and provincial legislation.
Prepares public notices with respect to rezoning applications.
Attends, on an as-required basis, Provincial Planning Appeals Board hearings.
Proactively identify trends, gaps, challenges and opportunities within the development community, report to the Growth and Community Planning Team, develop and implement necessary strategies to respond.
Participate in the continuous improvement of the one-stop development shop.
Participate in the development and implementation of the Corporate Revenue Generation Program, intergovernmental affairs and economic development coordination, all housed in Growth and Community Planning.
Participation and support towards the heritage program.
Research archival information on deeds, subdivision plans, zoning, ownership, historical data, etc.
Plays a key role in technical support for the growth and community planning service including tracking and reporting on targets for the service area and supporting the service area data requirements on work flow processes and mapping and other technical requirements.
Active role in ensuring compliance on planning applications including follow up on approvals to ensure conditions are satisfied.
Prepares preliminary site plans on an as-required basis.
Uses computer, H T E (Navaline) related application, ESRI software, audio/visual equipment, 35 mm and/or digital camera, measuring devices, general office equipment, and operates a motor vehicle.
Performs all other duties as assigned by the Deputy Commissioner.
The above key responsibilities do not reflect the full scope of duties and are subject to change.
Essential Qualifications
A proficiency level in Microsoft Office Systems and a Class 5 Driver's License are required.
Education, Training & Experience
Minimum of a Diploma in the field of technical urban planning, engineering, architecture, or research-related field of study
A minimum of three (3) years experience
Experience with research, analysis and project management
Bilingualism in French and English is preferred
Applications will be accepted through our online system only.  Qualified applicants should submit their resume to:
City of Saint John
Attention:  Hiring Committee
www.saintjohn.ca (careers/employment opportunities)
Only those applicants being considered further will be contacted.