NLAPP Awards Ceremony
NLAPP Awards
Since 2019, in recognition of World Town Planning Day, NLAPP has been hosting an annual awards program with two different award categories:
NLAPP Community Builder Award
This award celebrates projects or nominees who fit under one or more of the following categories:
Building more complete communities.

Excellence and innovation in land use planning, such as inclusive or accessible planning methods or techniques.

High standard of urban design excellence, such as innovative or accessible site design.

Infill or redevelopment projects that fit well within the surrounding context and contribute towards a sense of place and creative community building.

Nominees or projects that improve or enhance the quality of public space through the inclusion of elements of creativity, beauty, or whimsy in their design or implementation.
NLAPP Jack Allston Memorial Award
This award honours the memory of Colonel Jack Allston. He was the designer of the first provincial Urban and Rural Planning Act and laid the foundation for professional land-use planning in the province at the provincial, regional, municipal and local level.  In recognition of his foundational work in professional planning at the national, regional and provincial levels, Jack was also appointed as a Fellow of the Canadian Institute of Planners.

The Jack Allston Memorial Award is to recognize excellence in the coverage of local or provincial planning issues by the news media and to raise public awareness of planning issues and professional planning.
2023 NLAPP Award Winners
NLAPP is pleased to announce the following 2023 NLAPP Award Winners:
The 2023 Community Builder Award was presented to:
First Light Newfoundland and Labrador for rooting its programs and services in revitalizing, strengthening, celebrating and building NL indigenous cultures and languages in the spirit of trust, respect, and friendship and building community for all citizens of this place.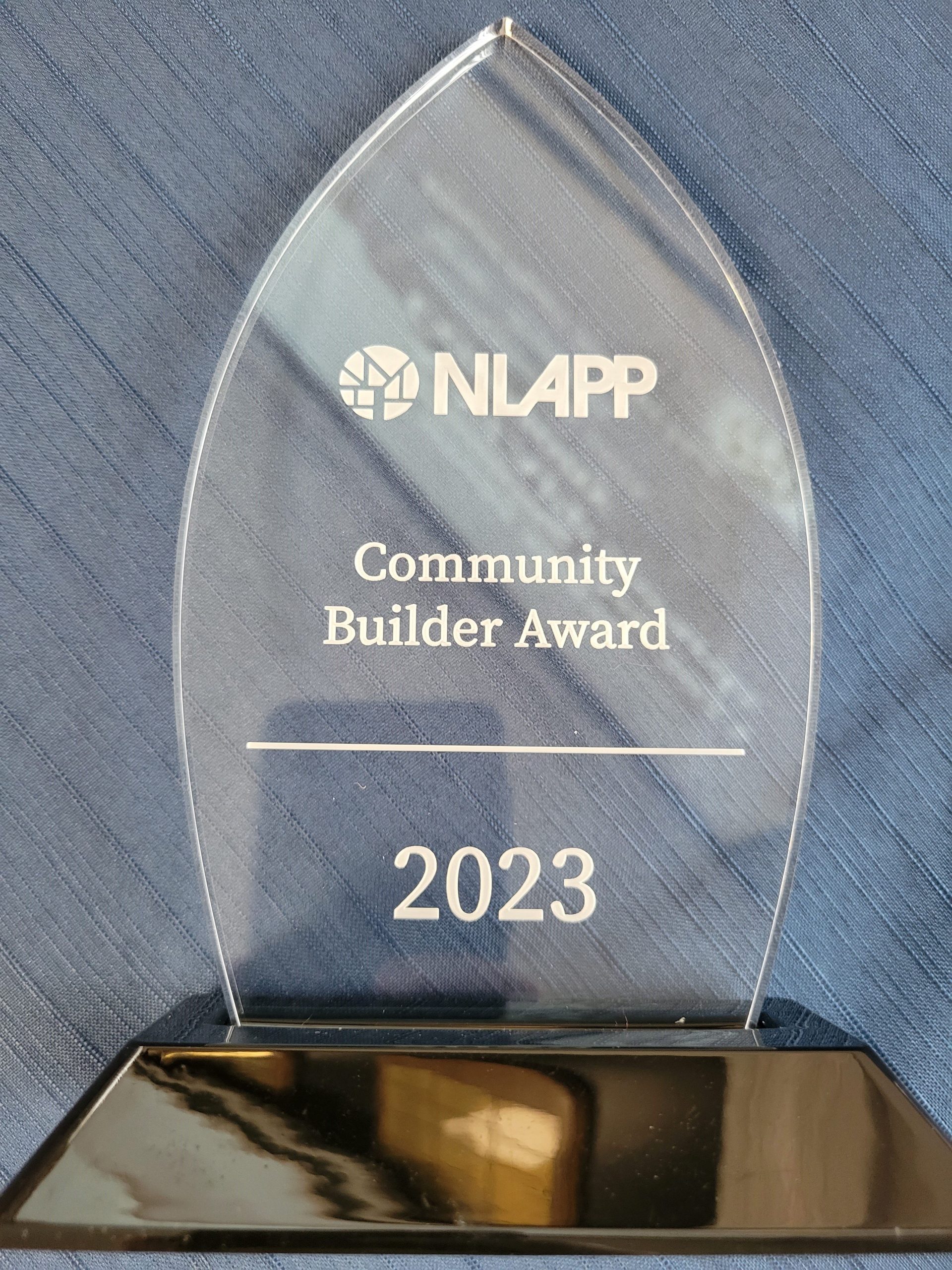 Breannah Flynn, Dir. of Business Operations with First Light Newfoundland & Labrador accepting the award at November 8 2023 World Town Planning Day Celebrations & Award Ceremony
The 2023 Jack Allston Memorial Award was presented to:
Gregory French, Lawyer of Mills Pittman and Twyne Law Offices in Clarenville for his extensive social media posts on Crown land issues in Newfoundland and Labrador in 2022 and 2023.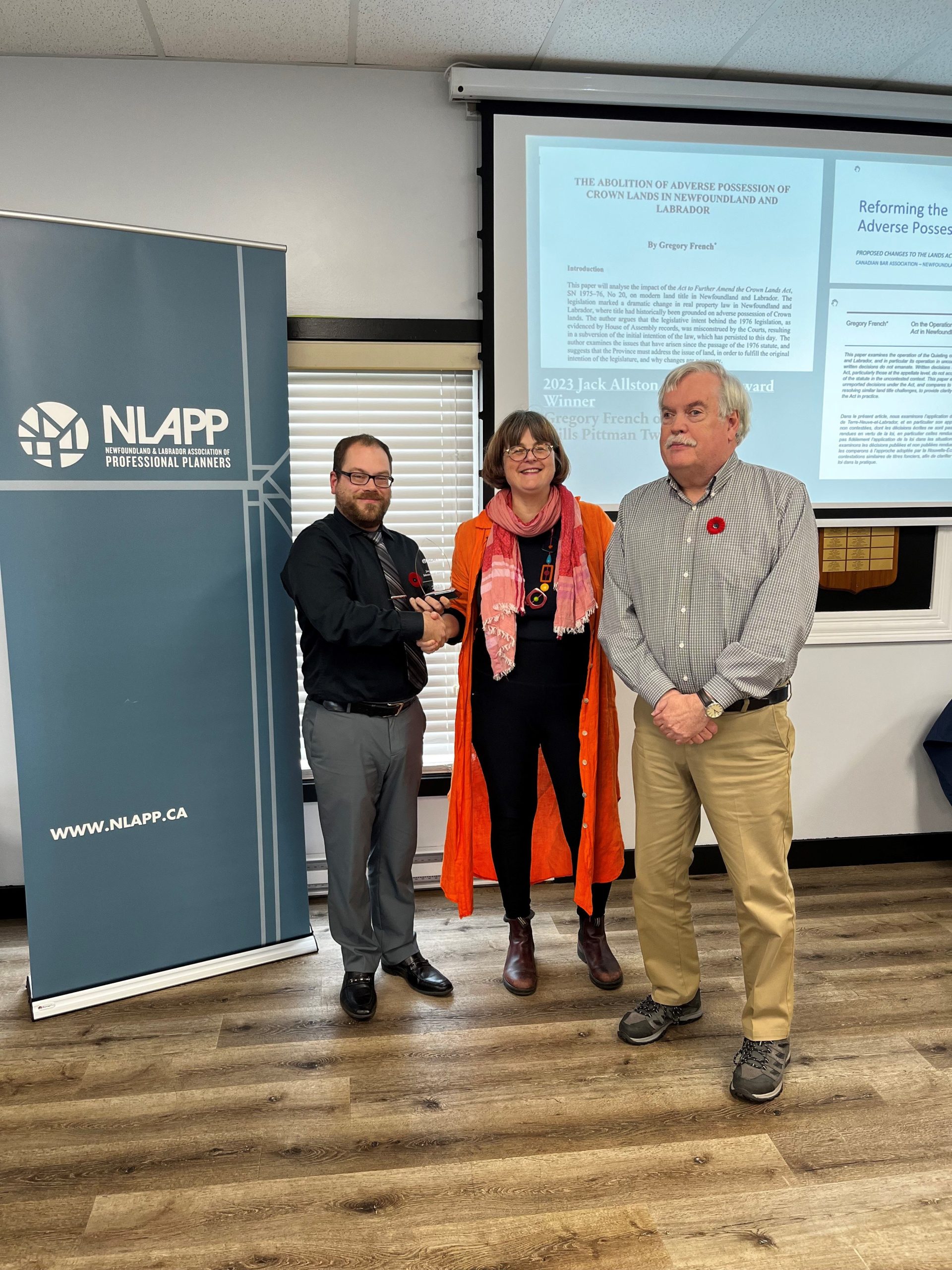 Gregory French of Mills Pittman & Twyne Law Offices in Clarenville accepting his award at the November 8 2023 World Town Planning Day Celebrations & Award Ceremony
Past Award Winners include:
Community Builder Award
East Coast Trail Association

Stella's Circle

Heritage NL
Jack Allston Memorial Award:
Sarah Smellie of The Scope

CBC Newfoundland and Labrador, in recognition of their work on the Newburbia series

John Gushue of CBC for his articles on regional and local planningHope Jamieson for her article in The Independent on how planning is indispensable for good city governance

The Shoreline and The Northeast Avalon Times monthly newspapers