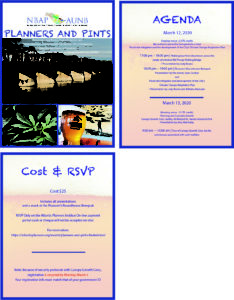 New Brunswick Association of Planners invites you to attend a Planners and Pints CPL event in Fredericton for March 12-13. Details of the event are outlined below:
Thursday, March 12 (2 CPL Credits)
5-6pm: Walking tour from downtown Fredericton across the newly refurbished Bill Thorpe Walking Bridge to discuss this important recreational and active transportation asset of the City (walking discussion/presentation by Jody Boone, Project Engineer (City of Fredericton))
6-7pm: Arrival at Picaroon's Roundhouse Brewpub; presentation by  Sean Dunbar, Owner of Picaroons; and presentation by Jody Boone, Project Engineer and Brittany MacLean, Environmental Coordinator (City of Fredericton) on flood risk mitigation and the development of the City's Climate Change Adaptation Plan
Friday, March 13 (1 CPL Credit)
9-10am: Tour of Canopy Growth Corp. facility (40 Blizzard St., Vanier Industrial Park) – Tour by Jerry MacAulay, Senior Cultivation Manager; this will be an opportunity to discuss recent land use issues/concerns, provincial directive, and regulatory best practice associated with such facilities
Please note that payment will not be accepted on-site (e.g. cash or cheque). Because of security protocol with Canopy Growth, registration is required by Monday, March 9. Your registration info must match that of your government ID.
This is the first of a series of Planners and Pints and CPL events organized by the newly formed CPL Committee. We encourage you to attend what will surely be a great local professional development opportunity.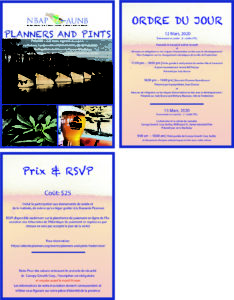 L'Association des Urbanistes du Nouveau-Brunswick vous invite à assister à son événement « Planners and Pints » tenu à Fredericton le 12-13 mars prochain.
Voici les détails de l'événement :
Jeudi, 12 mars (2 crédits CPL)
5-6 pm : Visite guidée à pied partant du centre-ville et traversant le pont piétonnier nouvellement rénové Bill Thorpe. Discussions entourant cet important atout récréationnel et de transport actif pour la ville. (Discussions durant la randonnée / présentation par l' Ingénieur de Projet, de la ville de Fredericton, Jody Boone
6-7 pm : Arrivé à la brasserie Picaroons Roundhouse / Présentation par le propriétaire Sean Dunbar; et présentation par l'ingénieur de Projet, Jody Boone et la Coordonnatrice en Environnement, Brittany MacLean, de la ville de Fredericton, portant sur les mesures de mitigation et les risques d'inondation en lien avec le développement, provenant du Plan d'adaptation aux changement climatiques de la ville.
Vendredi, 13 mars ( 1 crédit CPL)
9-10 am : Visite guidée de Canopy Growth Corp. facility (40 Blizzard St., Vanier Industrial Park) / présentation par le Directeur senior de  Culture, Jerry MacAulay; cette occasion sera l'opportunité de discuter des enjeux urbanistiques tel que les préoccupations et/ou questionnements  entourant cette activité en terme de planification, les directives provinciales et les meilleures pratiques entourant une telle industrie.
Comparativement aux années précédentes, le paiement sera maintenant effectué au travers de l'Association  des Urbanistes de l'Atlantique (API), grâce a une plateforme en ligne pour le paiement en suivant ce lien : https://atlanticplanners.org/events/planners-and-pints-fredericton/
Veuillez notez qu'aucune autre forme de paiement, soit en espèce ou par chèque, ne sera prise lors de cette journée.
Pour des raisons entourant le protocole de sécurité de Canopy Growth Corp., l'inscription est obligatoire et requise avant le mardi 9 mars. Les informations de votre inscription doivent correspondent et refléter ceux figurant sur vos pièces d'identité de la province.
Ceci est le premier événement de formation d'une série qui se poursuivra tout au long de l'année, organisé par le « Comité  CPL » de NBPA,  nouvellement formé. Nous vous encourageons fortement à participer et vous aurez certainement la chance, une fois de plus, de profiter d'une expérience enrichissante en terme de développement professionnel.